The
Olympic Park
in
Beijing
, China, is a host city for the
Formula E
championship, which held the first round of the
2014/15
season in
September 2014
.
[1]
 The city would also host the first round of the
2015/16
season.
City History
Edit
Beijing, current capital of the People's Republic of China, is a city that can trace its origins as far back as the 11th century B.C.[2] Originally named as Ji (the walled city), Beijing evolved into the de-facto capital of the First Emperor of Unified China.[2] The cities status as the capital of the region and the country lasted, with the current era, the People's Republic using the city for that purpose since 1949.[2] Beijing has also hosted several major events in recent years, most notably the 2008 Olympic Games.[2]
Formula E History
Edit
The Olympic Green Circuit in Beijing would have the honour of hosting the first ever ePrix, where Lucas di Grassi made history by becoming the first winner in Formula E history at the 2014 Beijing ePrix.[3]
Circuit History
Edit
The Brazilian took advantage of a late race crash between Nicolas Prost and Nick Heidfeld at the final corner, before being joined on the podium by Franck Montagny and Sam Bird.[3] Beijing returned to host the season opener for the 2015/16 season in September 2015, with 2014 winner di Grassi ending the race in second after being beaten to the line by Sébastien Buemi.[4]
Circuit Layout
Edit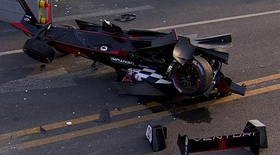 The Beijing ePrix circuit features twenty corners, with 3.44 km (2.14 mi) of tarmac linking them.[1] The circuit runs through the Olympic Park, running past the iconic Bird's Nest stadium as well as the Beijing National Aquatics Centre.[1] The circuit also features an unusual pitlane, with a U-shaped section within it that houses the 40 car field.[1] 20 corners provided numerous overtaking opportunities for the drivers, with the deceptively tight final corner allowing one final chance to overtake.[1]
A full list of records for the Beijing ePrix is outlined below, including a list of race winners.
Below is a list of all of the winners of ePrix held in Beijing:
Beijing ePrix Winners List
Season
Name
Circuit
Date
Winner
Report
2014/15
2014 FIA Formula E Evergrande Spring Beijing ePrix
Olympic Green Circuit
13th September 2014
Lucas di Grassi
Report
2015/16
2015 FIA Formula E SWUSP Beijing ePrix
Olympic Green Circuit
24th October 2015
Sébastien Buemi
Report
Beijing Olympic Green Circuit Records
Edit
Having hosted two ePrix so far, the Beijing ePrix around the Bird's Nest Stadium has seen records set primarily during the 2015 Beijing ePrix.[1] There records are as follows:
References
Edit
Videos and Images:
References:
↑ 1.0 1.1 1.2 1.3 1.4 1.5 'Circuit guide: Beijing', fiaformulae.com, (FIA Formula E, 2014), http://www.fiaformulae.com/en/calendar/2014-beijing/beijing-circuit.aspx, (Accessed 09/07/2015)
↑ 2.0 2.1 2.2 2.3 'Beijing', wikipedia.org, (WikiMedia, 02/07/2015), http://en.wikipedia.org/wiki/Beijing, (Accessed 09/07/2015)
↑ 3.0 3.1 'Lucas di Grassi snatches win after dramatic last corner crash', fiaformulae.com, (FIA Formula E, 13/09/2014), http://www.fiaformulae.com/en/news/2014/september/lucas-di-grassi-snatches-win-after-dramatic-last-corner-crash.aspx, (Accessed 30/04/2015)
↑ 'Buemi to the max in Beijing', fiaformulae.com, (FIA Formula E, 24/10/2015), http://fiaformulae.com/en/news/2015/october/buemi-wins-swusp-beijing-eprix.aspx, (Accessed 25/10/2015)